Musical Works Published in 1923
Enter the Public Domain in the USA on January 1, 2019
Beginning in 2019, new songs will enter the USA public domain every year on January 1. No new songs have entered the public domain for 20 years because of the Sonny Bono Copyright Term Extension Act of 1998. On January 1, after 20 years of waiting, songs published in 1923 will become public domain in the USA.
We will accept orders for 1923 PD Reprints beginning on December 26 with first shipment on January 1, 2019. We will soon be adding lists of 1923 Children's Songs, Spirituals, and Hymns. If you will need reprints of 1923 songs not listed below, please call or drop us an email so we can have your order ready to ship.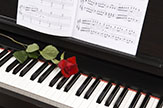 Songs Entering the Public Domain on January 1, 2019
Song Title
Authors


w=Words m=Music

Annabelle
w. Lew Brown, m. Ray Henderson
Bambalina
w. Otto Harbach & Oscar Hammerstein II m. Herbert Stothart & Vincent Youmans.
Introduced by Edith Day in the musical Wildflower
Barney Google
w.m. Billy Rose, Con Conrad
Beside A Babbling Brook
w. Gus Kahn, m. Walter Donaldson
Broken Hearted Melody
Gus Kahn, Isham Jones
Carolina in the Morning
w. Gus Kahn, m. Walter Donaldson
Charleston
w.m. Cecil Mack, James P. Johnson.
Inspiration for a dance craze.
Come On, Spark Plug!
w.m. Billy Rose, Con Conrad
Covered Wagon Days
w.m. Will Morrisey & Joe Burrows
Dirty Hands! Dirty Face!
w. Al Jolson, Clarke & Leslie, m. James V. Monaclo
Dizzy Fingers
m. Zez Confrey
Down Hearted Blues
w. Alberta Hunter, m. Lovie Austin
Dreamy Melody
w.m. Ted Koiehler, Frank Magine, C. Naset
Faded Love Letters
w. Richard W. Pascoe, m. Luella Lockwood Moore, Will E. Dulmage
Farewell Blues
w.m. Elmer Schoebel, Paul Mars, Leon Rappolo
Frasquita Serenade [Operette]
Franz Lehar
Grandpa's Spells
m. Ferdinand Jelly Roll Morton
He Loves It
(Home In) Pasadena
w.m. Harry Warren, Grant Clarke & Edgar Leslie
Horsey, Keep Your Tail Up
w.m. Walter Hirsch & Bert Kaplan
I Belong to Glasgow
I Cried For You
w. Arthur Freed m. Gus Arnheim & Abe Lyman
I Love Life
w. Irwin M. Cassel m. Mana-Zucca
I Love You: Je T'aime!
w. Harlan Thompson m. Harry Archer.
Introduced by John Boles and Margaret Wilson in the musical Little Jessie James
I Won't Say I Will But I Won't Say I Won't
w. B. G. De Sylva & Ira Gershwin m. George Gershwin.
Introduced by Irene Bordoni in the play Little Miss Bluebeard
I'm Goin' South
w.m. Abner Silver & Harry Woods
I'm Sitting Pretty In A Pretty Little City
w.m. Lou Davis, Henry Santly & Abel Baer
Indiana Moon
w. Benny Davis, m. Isham Jones
It Ain't Gonna Rain No Mo'
w.m. Wendell Hall
I've Got the Yes We Have No Bananas Blues
Just A Girl That Men Forget
w. Al Dubin, Fred Rath, m. Joe Garron
Kansas City Stomp
m. Ferdinand Jelly Roll Morton
La Rosita
w. Allan Stuart m. Paul Dupont (Pseud. of Walter Haenschen)
Last Night On The Back Porch
w. Lew Brown, m. Carl Schraubstader
Linger Awhile
w. Harry Owens m. Vincent Rose
Louisville Lou
w. Jack Yellen m. Milton Ager
Love Sends a Little Gift of Roses
Mama Goes Where Papa Goes
w. Jack Yellen m. Milton Ager
Mama Loves Papa
w.m. Cliff Friend & Abel Baer
Mexicali Rose
 m. Jack B. Tenney
Mr. Jelly-Lord
m. Ferdinand Jelly Roll Morton
Mon Paradis (Sérénade d'Aujourd'hui)
m. Cuthbert Clarke
Moon Love
w. George Grossmith, Jr. & P. G. Wodehouse m. Jerome Kern
From The Beauty Prize
My Sweetie Went Away
w. Roy Turk m. Lou Handman
No, No, Nora
w. Gus Kahn
Oh Didn't It Rain
w.m. Eddie Leonard
Oh Gee Oh Gosh Oh Golly I'm In Love
Old Fashioned Love
w. Cecil Mack m. James P. Johnson
Old King Tut
w. William Jerome m. Harry Von Tilzer
On The Mall
m. Edwin Franko Goldman
Once In A Blue Moon
w. Anne Caldwell m. Jerome Kern
Orange Grove In California
w.m. Irving Berlin
Out Where The Blue Begins
Graff, McHugh, Grant
Parade of the Wooden Soldiers
The Pearls
m. Ferdinand Jelly Roll Morton
Raggedy Ann
w. Anne Caldwell m. Jerome Kern
Rememb'ring
w.m. Vivian Duncan & Rosetta Duncan
Seven Or Eleven
w. Lew Brown m. Walter Donaldson
Sittin' In A Corner
w. Gus Kahn m. George W. Meyer
Sleep
w.m. Earl Lebieg
Smile Will Go A Long Long Way
Sobbin' Blues
w.m. Art Kassel
Some Sweet Day
w. Gene Buck m. Dave Stamper & Louis A. Hirsch
St Louis Blues
w.m. William C. Handy
Stella
w.m. Al Jolson, Benny Davis & Harry Akst
Swingin' Down the Lane
w. Gus Kahn m. Isham Jones
Tell Me With A Melody
w.m. Irving Berlin
That Old Gang of Mine
w. Billy Rose & Mort Dixon m. Ray Henderson
Tin Roof Blues
w. Walter Melrose, m. New Orleans Rhythm Kings
Waitin' For The Evenin' Mail
Billy Baskette
When Clouds Have Vanished And Skies Are Blue
w.m. George M. Cohan
From the musical The Rise Of Rosie O'Reilly
When It's Night-Time In Italy, It's Wednesday Over Here
When June Comes Along With A Song
When You Walked Out Someone Else Walked Right In
w.m. Irving Berlin
Who'll Buy My Violets
w. E. Ray Goetz m. Jose Padilla
Who's Sorry Now?
w. Bert Kalmar & Harry Ruby m. Ted Snyder
Wild Flower
w. Otto Harbach & Oscar Hammerstein II m. Vincent Youmans & Herbert Stothart
Wolverine Blues
w.m. Ferdinand Jelly Roll Morton, Benjamin Spikes & John C. Spikes
Yes! We Have No Bananas
w.m. Frank Silver & Irving Cohn
You'll Never Miss Your Mother Until She's Gone
Sung by Ethel Waters
You've Got To See Mama Ev'ry Night
w.m. Con Conrad & Billy Rose
1923 Song Hits Already In the Public Domain

Yes, you can order these titles right now.
| Song Title | Author |
| --- | --- |
| Aggravatin' Papa | |
| Baby Won't You Please Come Home | w.m. Clarence Williams, Charles Warfield |
| I Wish I Could Shimmy Like My Sister Kate | w.m. Armand J. Piron |
| Little Old Log Cabin in the Lane | |
| T'ain't Nobody's Business If I Do | w.m. Porter Grainger, Everett Robbins |
| Way Down Yonder in New Orleans | w.m. Henry Creamer, Turner Layton |
| Wonderful One | w. Dorothy Terrris, m. Oaul Whiting, Ferdie Grofe |