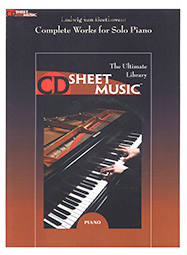 American Ragtime and Music Hall Piano Music

$ 19.95In Stock
236 Sheet Music Selections on CD-ROM
CD Sheet Music, LLC
Complete list of Sheet Music Selections on this CD.
This CD contains sheet music for 236 Ragtime and Music Hall pieces including virtually every well known piano rag of the early 1900's. Here you will find "Maple Leaf Rag", "Nola", "Dill Pickles", "Kitten on the Keys", "12th Street Rag", and lots more you will instantly recognize. There are 46 pieces written by Scott Joplin, 26 by James Scott, 9 by Joseph Lamb, and 6 by Zez Confrey. Since all the copyright dates have been removed, we do strongly suggest you locate a reprint with a copyright date before manufacturing a million music boxes or opening your movie in 687 multiplexes across the US. But if you are considering using piano rags for your project, this CD will give you a huge selection to choose from. You just cannot go wrong with all the best known Music Hall works of the US Ragtime era.
PUBLIC DOMAIN STATUS: Copyright dates and publisher information have been removed from all of the selections on this CD. A letter is included on the CD which states in part ". . . the files are derived from public domain music in editions that are in the public domain." The publisher has stated that they have paid no royalties to reproduce any of the music, and that all included sheet music is in the public domain in the USA.
ABOUT CD SHEET MUSIC In order to install the CD Sheet Music software you have to agree to not copy the CD and that you accept the usual small print typical to all software. But once installed you can print as many copies as you like of any piece any time you need them. You can print this sample page and see that it is easily readable and playable.