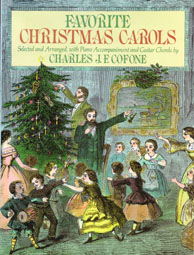 Favorite Christmas Carols
$ 10.95In Stock
Selected and Arranged by Charles J.F. Cofone
80 pages

8-1/2" x 11"

Paperback

Copyright 1975
Dover Publications, Inc.
ISBN: 0486204456
Sheet Music with lyrics for 34 public domain Christmas carols with guitar chords and piano accompaniment. Included are "Jingle Bells", "O Holy Night", "Twelve Days of Christmas", "Silent Night", and many more.
PUBLIC DOMAIN STATUS: The publisher has verbally advised us that all of these carols--music, lyrics, and arrangements--are in the public domain. When we requested that they confirm this in writing, they returned our letter with a sticker affixed stating in part: "Thank you for your inquiry. Although we would not want this statement construed as a warranty or guarantee, to the best of our knowledge this material is in the public domain . ." For public domain research use, a copy of this letter is included with each copy of this book.
Thousands of copies of this book have been sold and no claims of copyright infringement have been made to the publisher. While this is certainly substantial evidence that all of these Christmas songs are in the public domain, this does not provide a true public domain source. This book should be adequate PD proof for limited, local usage. But if you are using Christmas songs for recording or video distribution, we strongly recommend that you work exclusively from pre-1923 sheet music publications. Individual Christmas PD Sheet Music Reprints can be found on our Christmas Song List Page.
SONGS INCLUDED: Angels We Have Heard on High =][= Angels, from the Realms of Glory =][= Away In a Manger =][= The Boar's Head Carol =][= Christmas Is Coming =][= The Coventry =][= Deck the Halls =][= The First Nowell =][= The Gloucestershire Wassail =][= Go, Tell It on the Mountain =][= God Rest Ye Merry Gentlemen =][= Good Christian Men Rejoice =][= Good King Wenceslas =][= Hark! The Herald Angels Sing =][= Here We Come A-Wassailing =][= The Holly and the Ivy =][= I Heard the Bells on Christmas Day =][= I Saw Three Ships =][= It Came Upon the Midnight Clear =][= Jingle Bells =][= Joy to the World =][= Masters in This Hall =][= O Christmas Tree =][= O Come, All Ye Faithful =][= O Come, O Come Emmanuel =][= O Holy Night =][= O Little Town of Bethlehem =][= Once in Royal David's City =][= Patapan =][= Silent Night =][= The Twelve Days of Christmas =][= We Three Kings of Orient Are =][= We Wish You a Merry Christmas =][= What Child Is This? =][=