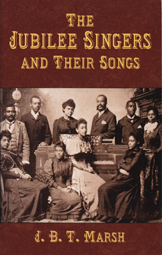 The Jubilee Singers and Their Songs
$ 12.95In Stock
By J. B. T. Marsh
312 pages 5-3/8" x 8-1/2" Paperback
Published 1892, Cleveland Printing and Publishing Co., Cleveland, Ohio
Reprint with Preface - Copyright 2003
Dover Publications, Inc.
ISBN: 0486431320
Fisk University was founded in 1866 to provide higher education to African-Americans who became free after the Civil War. To raise money for the institution, the school's chorus, known as the Jubilee Singers, began performing concerts of Negro folksongs and spirituals. This book is their remarkable story and includes 139 of the great songs they performed. Most songs have lyrics and piano arrangement, although a few songs have only the lyrics and the melody line. Included are well known favorites Deep River, Go Down Moses, Good News the Chariot's Coming, Way Over Jordan, and many more.
PUBLIC DOMAIN STATUS: This is an unabridged reprint of a book published in the United States in 1892. All the selections in this volume are in the Public Domain in the United States. The first edition of this book was published in 1881, so it is a virtual certainty that all of these songs are in the public domain worldwide.
SPIRITUALS INCLUDED:
Anchor in the Lord
The Angels Changed My Name
Angels Waiting at the Door
Been a-Listening
Benediction
Bright Sparkles in the Church-Yard
Children, We All Shall Be Free
Children, You'll Be Called On
Chilly Water
Come Down, Angels
Come, All of God's Children
Come, Let Us All Go Down
The Crucifixion
Deep River
Did Not Old Pharoah Get Lost?
Didn't My Lord Deliver Daniel?
Don't You Grieve After Me
Down by the River
Farewell, My Brother
From Every Grave-Yard
Gabriel's Trumpet's Going to Blow
The General Roll
Getting Ready to Die
Gideon's Band
Give Me Jesus
Go Down, Moses
Go, Chain the Lion Down
Good News, the Chariot's Coming
Good Old Chariot
Good-by Brothers
The Gospel Train
Grace
A Great Camp Meeting in the
Promised Land
Gwine to Ride Up in the Chariot
Hail! Hail!
A Happy New Year
Hard Trials
He Arose
He Rose from the Dead
Hear de Angels Singin'
He's the Lily of the Valley
Humble Yourself, the Bell Done Run
I Ain't Got Weary Yet
I Am Going to Die No More
I Know That My Redeemer Lives
I Want to Be Ready

I'll Hear the Trumpet Sound
I'm a-Rolling
I'm a-Traveling to the Grave
I'm Going to Live with Jesus
I'm Going to Sing All the Way
I'm So Glad [Angels Brought]
I'm So Glad [No Dying]
I'm Troubled In Mind
In Bright Mansions Above
In That Great Getting-Up Morning
In the River of Jordan
Inching Along
I've Been in the Storm So Long
I've Been Redeemed
I've Just Come from the Fountain
John Brown's Body
Judgment Will Find You So
Judgment-Day Is Rolling Round
Keep a-Moving
Keep Me from Sinking Down
Keep Your Lamps Trimmed
and Burning
Listen to the Angels
A Little More Faith in Jesus
Lobe an' Serbe the Lord
Lord, I Wish I Had a-Come
Lord's Prayer
Love King Jesus
Love-Feast in Heaven
Many Thousand Gone
March On
Mary and Martha
Move Along
My Good Lord's Been Here
My Lord Delibered Daniel
My Lord, What a Mourning
My Lord's Writing All the Time
My Ship Is on the Ocean
My Way's Cloudy
Nobody Knows the Trouble I See
Now We Take This Feeble Body
O Redeemed
O! Sinner Man
Oh! Holy Lord
Oh, Brothers Are You Getting Ready?
Oh, Give Me the Wings
Oh, Make a-Me Holy

Oh, My Little Soul's Gwine to Shine
Oh, Wasn't That a Wide River
Oh,Yes! Oh, Yes!
The Old Ark
Old Ship of Zion
Peter, Go Ring Dem Bells
Prepare Us
Reign, Master Jesus
Ride On, King Jesus
Rise and Shine
Rise, Mourners
Rise, Shine, for Thy Light Is a-Coming
The Rocks and the Mountains
Roll, Jordan, Roll
Room Enough
Run to Jesus
Save Me, Lord, Save Me
Shine, Shine [I'll Meet You]
Shine, Shine [My Little Soul]
Show Me the Way
Sitting Down by the Side of the Lamb
Some of These Mornings
Steal Away
Sweet Caanan
Swing Low, Sweet Chariot
The Ten Virgins
There's a Meeting Here Tonight
These Bones Are Going to Rise Again
They Led My Lord Away
This Old Time Religion
'Tis Jordan's River
Turn Back Pharoah's Army
Wait a Little While
Way Over Jordan
We Are Almost Home
We Are Climbing the Hills of Zion
We Shall Walk Through the Valley
We'll Die in the Field
We'll Overtake the Army
We'll Stand the Storm
What Kind of Shoes Are You
Going to Wear
When Moses Smote the Water
When Shall I Get there?
The Work's Being Done
Wrestling Jacob
Zion's Children