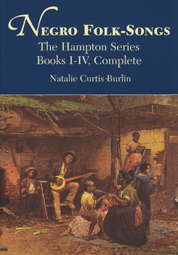 Negro Folk Songs
$ 12.95In Stock
By Natalie Curtis-Burlin
168 pages 6-3/8" x 9-1/4" Paperback
Published 1918 - 1919, G. Schirmer, Inc., New York
Reprint - Copyright 2001
Dover Publications, Inc.
ISBN: 0486418804
These are arrangements of Negro folk songs as sung by the black students at Virginia's Hampton Normal and Agricultural Institute. This book contains 19 spirituals and work song choral arrangements. Parts are included for Tenor, Lead, Baritone, Bass, and piano. All four sections feature introductions that discuss the social context of the times, the people, and their music.
PUBLIC DOMAIN STATUS: This is an unabridged reprint of a set of four books first published in the United States in 1918 - 1919. All the selections are in the Public Domain in the United States. Natalie Curtis Burlin (1875-1921) died in 1921 so all the songs should be PD worldwide.
SPIRITUALS INCLUDED:
Book I
Book II
O Ride On, Jesus
Go, Down Moses
Couldn't Hear Nobody Pray
Good News, Chariot's Comin'
'Tis Me, O Lord
Listen to de Lambs
O Ev'ry Time I Feel de Spirit
God's a-Gwine ter Move All de Troubles Away
Book III
Book IV
Cott'n-Pickin' Song
Cott'n-Dance Song
Cott'n-Packin' Song
Corn Shuckin' Song
Peanut Pickin' Song
Hammerin' Song
Lullaby
Chica-Hanka ~ Hyah, Rattler! ~ Old Rags, Bottles, Rags!
'Liza Jane