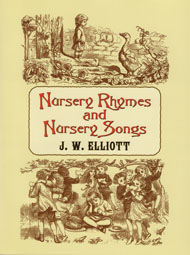 Nursery Rhymes and Nursery Songs
Out of Print
Used Copies Usually in Stock - Call for Price 770-993-8074
Also check Amazon.com - eBay - Used Book Sellers
54 Nursery Rhymes with music written by J.W. Elliott (1833-1915)
116 pages 8-1/2" x 11" Paperback Reprint
Originally Published 1870, Novello and Company, London
Reprint 2004, Dover Publications, Inc.
ISBN: 048438066
In 1870 J. W. Elliot published this definitive book of nursery songs and melodies. He collected 54 nursery rhymes and wrote melodies for each along with simple piano accompaniment. Many of these melodies are still well known today and have become almost inseparable from the original nursery rhyme. Beautiful engravings for each nursery rhyme were created by the Dalziel brothers. All of these nursery rhymes, melodies, arrangements, and engravings are in the public domain in the USA.
PUBLIC DOMAIN STATUS: This Dover edition, first published in 2004, is an unabridged and unaltered replication of the work originally published by Novello and Company, London, in 1870. The melodies and arrangements of these songs were published in 1870 and the songs, music, lyrics, and arrangements are believed to be in the public domain in the United States.
SONGS INCLUDED: =][= A B C Tumble Down D =][= Baa Baa Black Sheep =][= Child and the Star =][= Curly Locks =][= Death and Burial of Cock Robin =][= Dickory Dickory Dock =][= Ding Dong Bell =][= Dolly and Her Mamma =][= Feast of Lanterns =][= Georgie Porgie =][= Goosey Goosey Gander =][= Hey Diddle Diddle =][= Humpty Dumpty =][= I Had a Little Doggy =][= I Love Little Pussy =][= Is John Smith Within? =][= Jack and Jill =][= Jolly Tester =][= King of France =][= Lazy Cat =][= Little Bo Peep =][= Little Cock Sparrow =][= Little Jack Horner =][= Little Jumping Joan =][= Little Maid Pretty Maid =][= Little Tommy Tucker =][= Lullaby =][= Maggie's Pet =][= Man in the Moon =][= Mistress Mary Quite Contrary =][= Mother Tabbyskins =][= My Lady Wind =][= Nineteen Birds =][= North Wind Doth Blow =][= Nurse's Song =][= Old Man Clothed in Leather =][= Poor Dog Bright =][= Pussy-Cat Where Have You Been? =][= Ride a Cock Horse to Banbury Cross =][= See-Saw Margery Daw =][= Simple Simon =][= Sing a Song of Sixpence =][= Six Little Snails =][= Spider and the Fly =][= Taffy Was a Welshman =][= There Was A Crooked Man =][= Thievish Mouse =][= Three Children Sliding =][= Three Crows =][= Three Little Mice =][= Tom the Piper's Son =][= Twinkle Twinkle Little Star =][= When the Snow Is On the Ground =][= Whittington For Ever! =][=