Sound Ideas
Production Music Library

The Sound Ideas Music Library is an extremely broad collection of production music that gives you a great mix of popular royalty free music genres: Rock, Dance, Sports, Corporate, Film Score, Classical, Jazz, Easy Listening, Comedy, and Holiday. This library of 131 CDs is an absolute necessity for anyone creating professional multimedia products.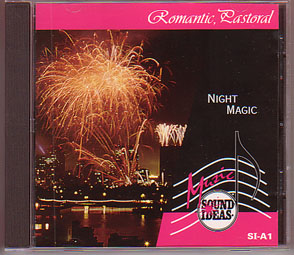 Sound Ideas Library Complete
Lifetime Royalty Free Music License
In Stock - Order Now!
$ 1499.00

131 CDs in Jewel Cases
131 Categories with 1000+ Themes
More than 3000 Music Tracks
Need Music Right Now?
Download Any Track for $18.
Sound Ideas wrote the book on digital audio production and royalty free music tracks for television, film sound design, game development, post-production, interactive media and virtually any other professional audio production use you can imagine. These incredible royalty free music recordings are a Close-Out Special and you are the winner! Previously the only way to use this wonderful royalty free music was to buy the ENTIRE Production Music Library of 131 CD's for many thousands of dollars. Only big corporations, major advertising agencies, and corporate radio stations could afford these royalty free music sound recordings ! ! ! You will be amazed at the music selections, recording quality, and variety.
Now you can get Single Track Downloads or Individual CDs to use for YOUR project. We had to beg to get these disks and PD Info was finally given permission to sell the royalty free music CD's individually - at prices anyone can afford. For each Music Track or CD you purchase, you get a Royalty Free Music License to use all of the music on the CD as many times as you like for any multimedia project you ever create - for yourself or work-for-hire, for profit or non-profit or just for fun.
PUBLIC DOMAIN STATUS: The Stereo Sound Files on this CD are NOT IN THE PUBLIC DOMAIN. You are purchasing an individual lifetime license to use these sound files for any multimedia project you create, but the Audio CD and music audio files remain the property of Sound Ideas, Inc. You cannot copy, lend, or trade this CD. It is licensed only to you, the original purchaser, for use, and you cannot sell or trade this CD to any other person or company. You are licensed for any commercial voice-over use, but your license does NOT allow singing "karaoke" style over the tracks for jingles or for release as records or CD's. You CAN use the music for any multimedia project you design for yourself or work-for-hire for others. You CAN use all of these music files as many times as you like as part of any project you ever create.
IMPORTANT NOTE: This CD contains Stereo Sound Files (CDA-Red Book) which can be auditioned on your CD player or on your computer using software like Windows Media Player, Quick Time, RealPlayer, Sound Forge, or Pro Tools. These files can also be easily used with Power Point Presentations. Most audio editing software can import stereo sound files files or convert them to WAV files as needed.
Note: These disks are close-out merchandise. Some of the CD packaging may have very minor imperfections, but the CD's are guaranteed to be absolutely perfect. You can buy and use this Royalty Free Music Library with confidence.